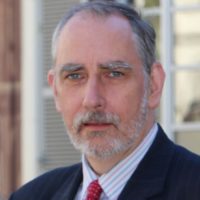 A word from the President
Dear friends of the Festival des Sacrées Journées de Strasbourg,
We will be very happy to welcome you at the 9th edition of the Festival des Sacrées Journées de Strasbourg. Scheduled from January 31 to February 7, 2021, the current sanitary situation which affects the whole of Europe and the world will undoubtedly lead us to postpone this edition for a few weeks. We will give you news as soon as possible.
We commit ourselves to scrupulously respect the barrier gestures during the concerts. We wish to protect you. Help us to protect each and every one of you.
In a world where religions often appear as factors of division and sometimes confrontation, music, song and dance are an excellent approach to meeting and getting to know each other between people of different backgrounds and beliefs.
This is the conviction of all the members of Sacred Days, and we will continue to affirm this even more during the next festival.
While waiting to tell you more, here are the artists we are in contact with for the next edition of the Festival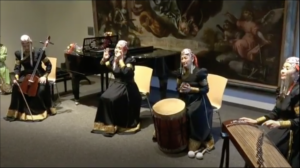 Ösökhjargal Pürevsüren, the only professional khööömii singer in Europe, is from Ulan Bator. She founded the Hatan (Queen) Ensemble in 2013. Hatan is a female quintet composed of 4 Mongolian musicians and a dancer. Their songs of Buddhist and shamanic inspiration, have a very strong spiritual dimension, in relation with nature.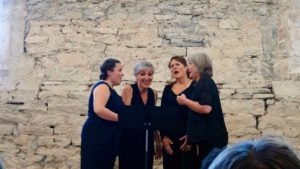 4 female singers in an original program to pay homage to women in the Corsican liturgical tradition, where sacred songs used to punctuate and still punctuate women's lives.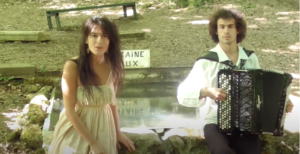 The duo d'Or et de Paille offers you a musical immersion in the fourth vision of the 12th century Benedictine abbess Hildegarde von Bingen. The concordance between Man and Nature in their divine character is revealed. For the Saturday afternoon musical walk, propose a tale: "How the time has come to the world".
Bachir Chami, a former Cistercian monk, has brought together about twenty artists, singers and instrumentalists from more than nine lands in Europe, Africa and the Middle East. They will offer us sacred songs from the East and West, Greek Orthodox, Maronite and Syriac churches.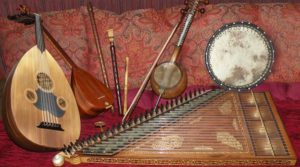 The musical ensemble of Kairouan, composed of teachers from the regional conservatory of the holy city, are great professionals of religious singing, mixing artistic sensitivity and teaching.
Héla Brouk singing and quanoun - Othman, violin and percussions-
Kamel Daadoucha, oud - Chokri Gueddach, ney- Wallid Kahouaji,
have been invited several times to different festivals such as those of the medina of Tunis, Ennesrine in Zaghouan (Tunisia) and the international festival of malouf and traditional Arab music in Testour.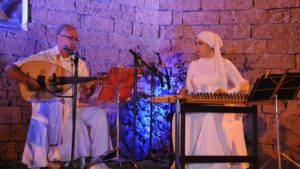 Tunisian singer, Khadija El Afrit in Quanoun instrument of the family of table cithers, performs several great classics of oriental music and compositions of North African inspiration. In complicity with Mohamed Nabil Saied at the Oud, Etienne GRUEL on percussion and Ruben Tenenbaum on violin.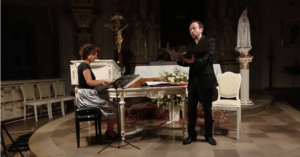 Doron Schleifer, countertenor, is from Israel. He began his musical career as a soloist in the master's degree of the synagogue.
of the Hebrew College of Jerusalem. Accompanied by Corina Marti on the harpsichord, they will present Jewish music from medieval Italy of the fourteenth century. Her moving, powerful and clear voice invites the audience to a real spiritual elevation.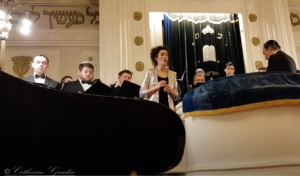 The first female cantor (hazzan) to graduate in Europe and the only one in France, Sofia Falkovitch is a mezzo-soprano singer. She fascinates by her personality, her rare voice, her presence, and all this with a refreshing naturalness.
Intercultural and interreligious dialogue occupies a central place in her work as a singer. Program of Hebrew lithurgical songs a capella or accompanied by Raphael Tambyeff on the organ.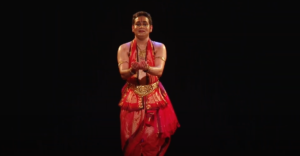 Mohanapriyan is distinguished by his excellent technique and expressions of bharatanatyam, the dance of the gods. Bharata natyam is one of the oldest forms of classical Indian dance, originating from southern India. It was linked to religious practice from its origin.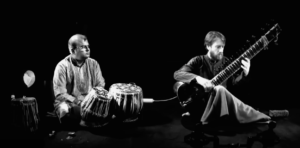 Nicolas DELAIGUE, concertist, specialist in sitar and classical music of North India (Hindustan), AND in tabla, Nihar MEHTA who comes from one of the most important families of philosophers and musicians of Ahmedabad (Gujarat) for several generations.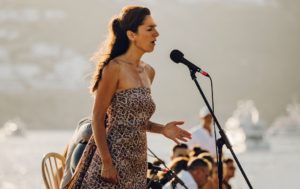 Franco Iranian. Imbued with Zorastrian poetry and philosophy since her childhood by her father, she sings the Gathas, hymns of Zoroastrian lithurgy. She is accompanied by 3 musicians: piano - double bass and oud.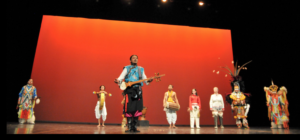 Musician, singer, dancer, composer, originally from Tibet, Lobsang Chonzor became a member of the Kalimpong Tibetan Opera Association in 2000, where he was trained in opera singing by renowned teachers and performed at the "Shoton Festival" in Dharamsala from 2000 to 2005, in front of His Holiness the Dalai Lama.
https://lobsang-chonzor.jimdofree.com
THE CONTROVERSE OF KARAKORUM: Under the patronage of the French National Commission for UNESCO because of the "strong universal values of fraternity, humanity and peace that resonate with the ideals of UNESCO. A musical stage project developed around inter-religious dialogue . A mystical musical journey of 1h15mn, from West to East . This concert is inspired by the story of the Franciscan William of Rubrouck who, twenty years before Marco Polo's journey, went to Karakorum, the former capital of the Mongolian empire which then stretched from Beijing to Budapest.
In the 13th century, Karakorum was the capital of the world and religious services of all confessions were held there peacefully.
At the court of the great Mangu Khan and at the request of the latter, the monk organized a theological controversy on the evening of Pentecost 1254 to which representatives of the main religions (Nestorians, Christians, Buddhists, Muslims) were invited. His account has come down to us thanks to a handwritten letter "Itinerarium ad Partes Orientales" addressed to King Louis IX. Through the songs evoked in his manuscript, his story invites us to a journey through the melodies, languages and rhythms of the countries he crossed.