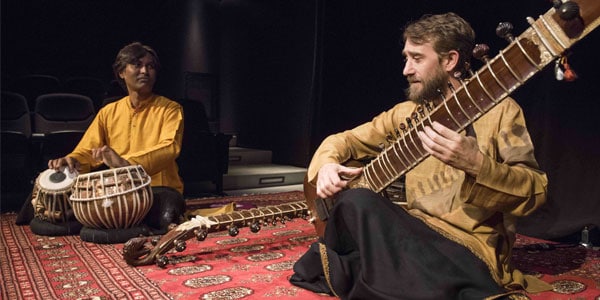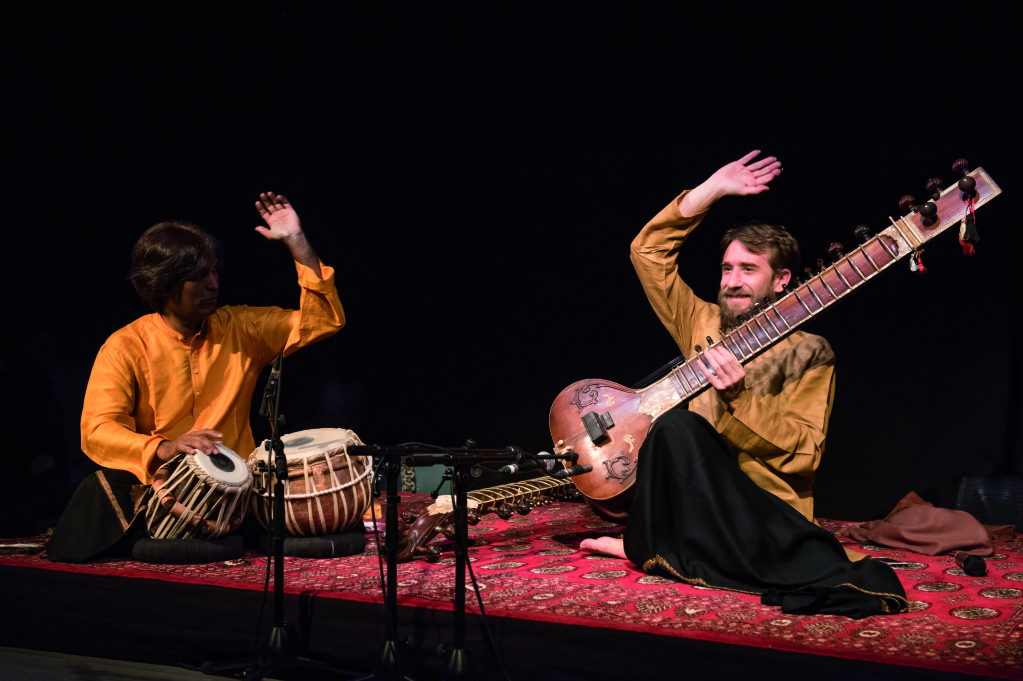 RASA - Music from North India
Through the musical sensibilities of Nicolas Delaigue (sitar) and Nihar Mehta (tablas), let yourself be transported into the rich tradition of Indian sacred arts on a musical journey.
The interaction of the two instruments provokes the outpouring of bewitching sounds and rhythms, the spectators will taste, during a concert, a unique and improvised moment. Rasa", which literally means "sap", is a fundamental concept in the classical arts of India that governs the whole aesthetic theory of the expression of feelings in the performance arts.
Art of the moment and in accordance with the tradition, the two musicians will choose on the spot a repertoire of melodies – Raga- corresponding to the hour of performance, repertoire whose origins find their source in the sacred texts of the Indian civilization called Veda-s
is a concert performer and teacher, specializing in sitar and the music of India. Through his atypical background, and after years of immersion, practice and dedication to this art, he has been able to create a bridge between India and the West, and become an essential reference in the interpretation and teaching of this music in Europe. Residing in Lyon, he has an international concert activity (Europe, India, North Africa…). Nicolas Delaigue has been trained for many years on the sitar by great masters: Ustad Shahid Parvez, Patrick Moutal, Indrajit Banerjee and Sugato Nag. Nicolas teaches sitar and Indian music in public, private and associative structures all over France, and he is regularly invited in various cultural regularly invited in various cultural, university and educational centers for conferences demonstrations, workshops, follow-up of students, jury of competitions (Cité de la musique de Paris & Marseille, CNSMD de Paris, CRR de la Réunion, Ljubiana University, CRR de Boulogne-Billancourt, Université Jean Monnet de Saint-Etienne, CEFEDEM Rhône-Alpes, CRR du Grand Chalon, CRR de Saint-Étienne, CRD de Macon, CRD of Bourgoin Jallieu…). Holder of the State Diploma of Traditional Music, Nicolas has a deep experience and reflection on the transmission and musical pedagogy, and he teaches the sitar and the music of India all year long to many students in private and group lessons throughout France. All information (music, videos, bio and references, photos, press etc.) about Nicolas Delaigue and his music at: http://www.nicolasdelaigue.com/

Nihar MEHTA comes from one of the most prominent families of philosophers and musicians in Ahmedabad (Gujarat) for several generations. The family has always been very active in the teaching and promotion of classical music in India, notably with the creation of the "Saptak" school, in which Nihar did his apprenticeship, and that of the largest music festival in India, the "Saptak Festival" which has been held from January 1st to 13th for the past 40 years. Since then he has performed in prestigious concerts in Europe: Theatre de la Ville de Paris, Philarmonie de Rome, Auditorium of the Musée Guimet in Paris, Grand Auditorium of the Musée des Confluences, Auditoium of the Rietberg Museum in Zurich, Theatre Lino Ventura in Nice, Theatre Elisabeth in Bucharest, Bimhuis in Amsterdam, Musik Republic in Brussels, Trafo in Budapest, "Le Lieu Unique" Scene Nationale in Nantes, etc. Nihar regularly accompanies artists such as Ustad Shujaat Khan, Ustad Shahid Parvez, Vishwa Mohan Bhatt, Amarnath Mishra, Krishna Mohan Bhatt, Partho Sarothy, Nicolas Delaigue, Sugata Roychowdhury, Ustad Sabir Khan and many others. Since 2012 he has produced Ustad Zakir Hussain's concerts and Masterclass in Europe, notably at the Opera de Nice. He was invited in 2017 by Jordi Savall during the concert "Ibn Battuta" at the Emirates Palace to perform the percussion.
Dates and places of the concerts :
Groupes scolaires sur inscription